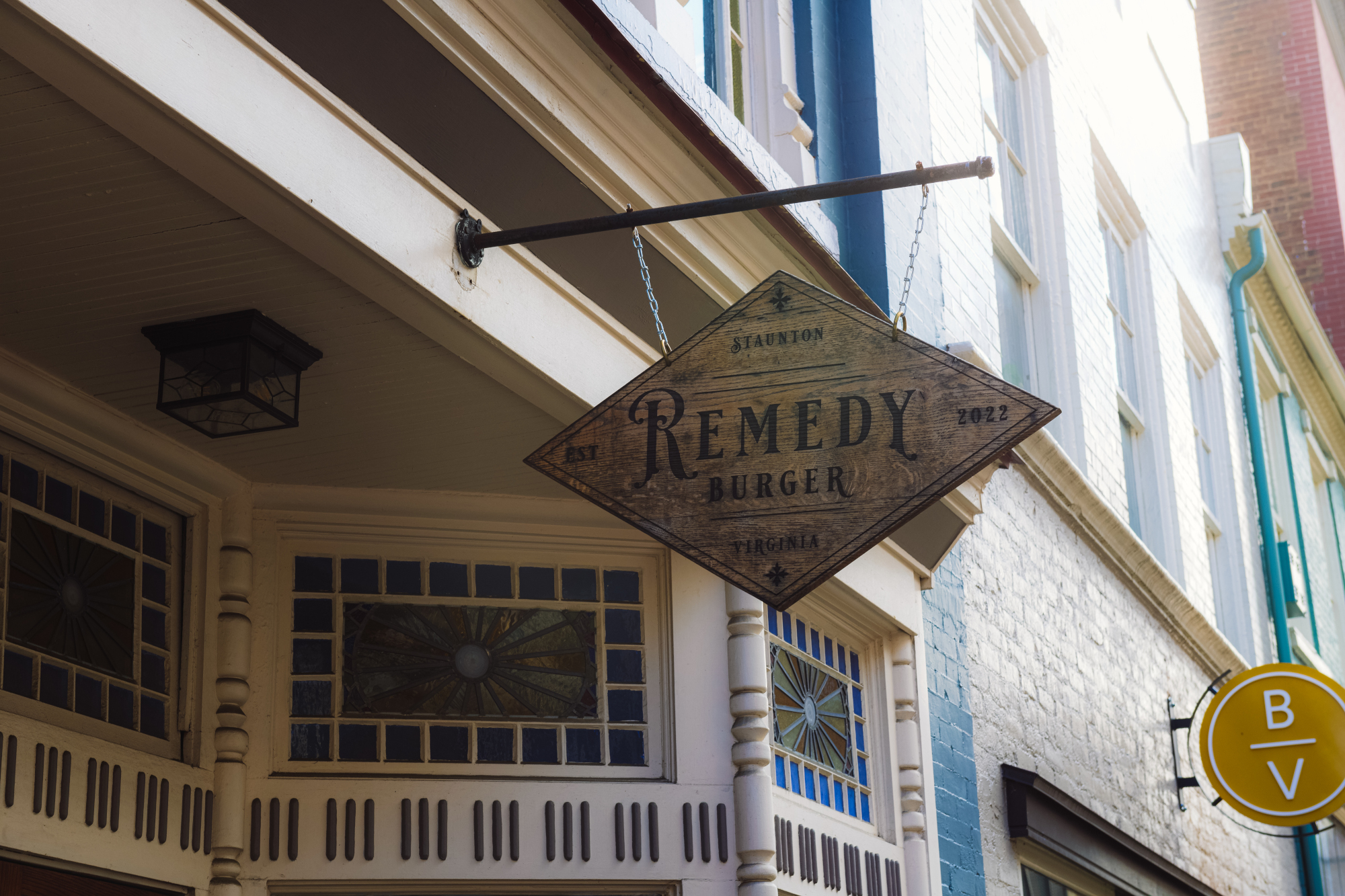 I like hamburgers. But I'm picky about my burgers.  I like to try new places, ever searching for the best. I also like golf, and I have this odd habit of liking to match up where I play with where I eat.  This way the two compliment each other to make the perfect outing. Friends, outdoors, golf, good food, good conversation — you get the picture.  So when I play an unusual course, i.e. Ingleside, with its very own haunted hotel overlooking a straight 18-hole course from years gone by, on hill after hill with two-hundred-year-old oaks leaning over my putts and views of farms that were here before gas engine tractors — I needed just the right hamburger to match the eclectic and enchanting experience.  
The restaurant is Staunton's very own Remedy Burger. I'd heard about this place from a few people. There had been rumors they served a "smash burger." Naturally, being a man who loves "smashed potatoes" instead of "mashed potatoes," I was curious. When I ran it by my better half, Sarah, she wasn't overly interested. Everyone knows if you smash a good burger on the grill it becomes a dried-out mess pretty quick, since you just squeezed out the juices … right?
I did what every wise man would do to plead his case and quickly looked up "smash burgers" on YouTube. Sure enough, there was an explanation of how smashing the beef at just the right moment captures the most surface area to crystalize the meat without losing any of the precious juices that are the soul of the burger. That was just barely enough taste-bud temptation to talk her into it. Going to their website sealed the deal. The burgers looked like a work of art, and the reviews were top notch.
To make things more interesting, I called up my adventurous, 80-year-old mother and invited her to come along. She doesn't eat much red meat and never eats gluten, but she was surprisingly easy to persuade to join the road trip.
It needs to be said. Staunton rules, especially on a weekend when they literally roll up the streets and make it a "walker's only" paradise. Streams of people shopped, walked dogs, ate outdoors and danced to music throughout the downtown as we entered the town's historic streets. Staunton is a city of hills on top of hills, on and off the golf course.  The spectacular views and challenging golf courses give this old town a personality all its own. And don't worry; I've got plenty to tell about Ingleside, but that's a different story for another day.
When we rolled up to Remedy Burger, I shouldn't have been surprised. The burger joint's architecture was stunning, a building that looked well over 100 years old, restored and beautiful.  Picnic tables invited us out front with bright, inviting umbrellas supplying shade while you're enjoying a bite in the sun. My mother, in her magical, one-of-a-kind way, got us the best table of the house, strategic for watching every customer as they entered and exited this eclectic establishment. Our table was literally out in the street, but luckily the street was closed down for the weekend, making it a delightful place to come together as a community. 
Let's be clear: Remedy Burger's food is extraordinary. The burger was special and different — it protruded past the bun with a crisp but not-burnt texture, and it held a taste that specifically comes from the 'smash' technique perfected by Remedy Burger's chefs.  You're greeted with a satisfying crunch as you sink your teeth into this delicious, and yes, juicy, burger.  But even if the food had been ordinary, Remedy Burger has such good staffing that it'd make the hour-long trip from my bunker worth it. The fact that both were home runs (or hole-in-ones), just made it that much better.  Right from the start the waitress came out and conversed with us,  real conversation. We asked lots of questions and she was open to sharing her opinions and suggestions, even telling us what to steer away from and what were her favorite menu items.  
Turns out, not all of their burgers are smashed, and not all buns have flour, and some burgers come plain while others are decked out. She did a great job of helping us understand the menu's creative gullies and  delicious hilltops.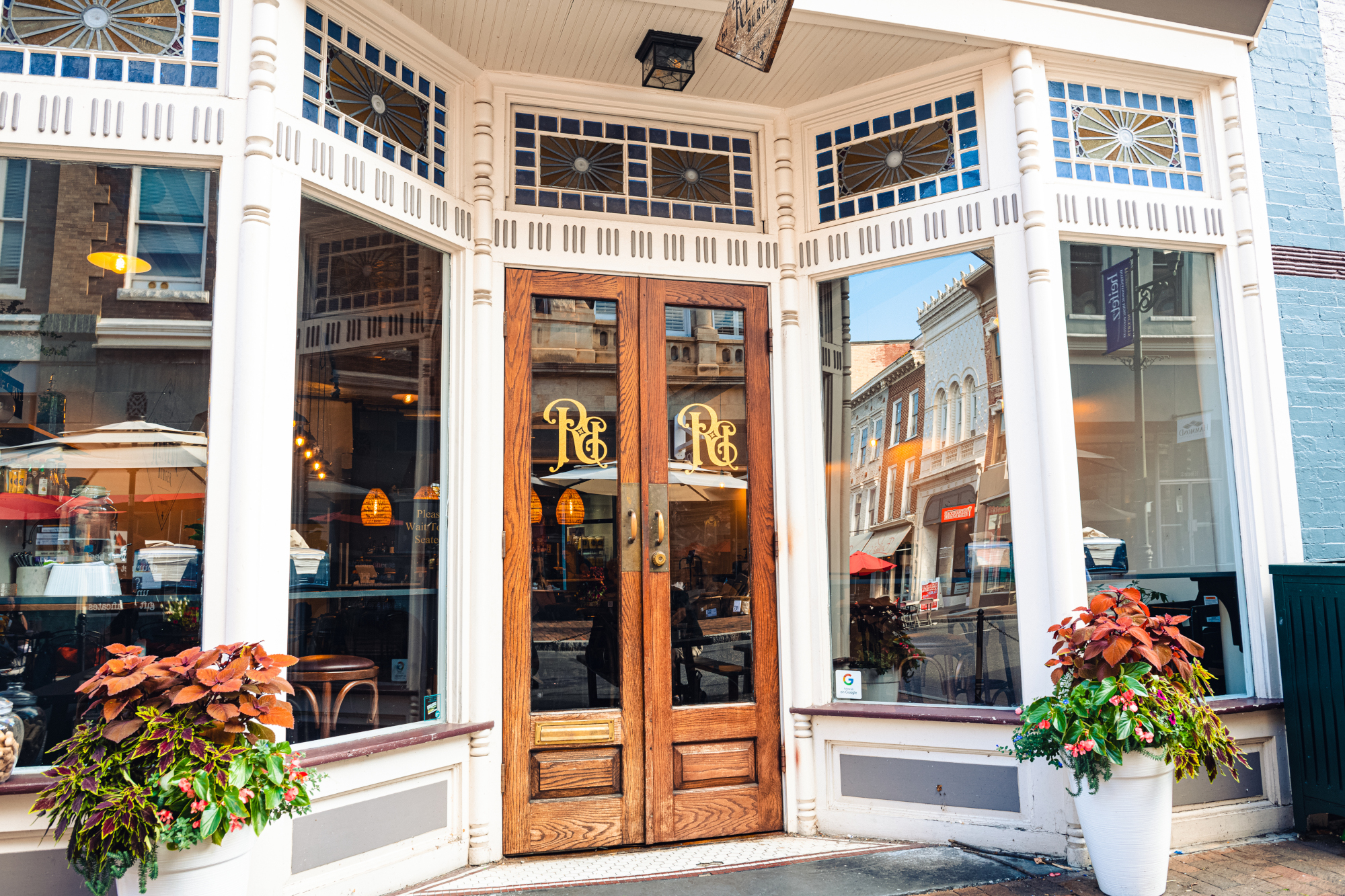 The people-watching was really interesting. Two different times parents had children on their shoulders as they precariously stooped to get through the restaurant's entrance, the three of us onlookers breathing sighs of relief when no heads were bonked. A dog walked past us that looked like its back half was dipped in red-barn paint. A rhythmic arrangement of music came out of one restaurant where several little kids were dancing, their parents watching close by. A slight breeze teased waiters, wafting paper napkins like kites floating down the street. Sideways sunlight met our smiles as we shared the serendipitous evening. It was … festive. Yes, that's the word I'm looking for. A truly festive dose of fun. Sometimes trying something new takes a little risk and effort, but the outcome can lead to something better than you had hoped for.
So did Ingleside and Remedy Burger match up? Oh yes. Both were a little different from the norm, but in a good way, with memorable character and an experience that won't soon be forgotten. The rolling hills of downtown Staunton and Ingleside Resort add to the personality and surroundings with charm and mystery, a recipe that's sure to stick with you.